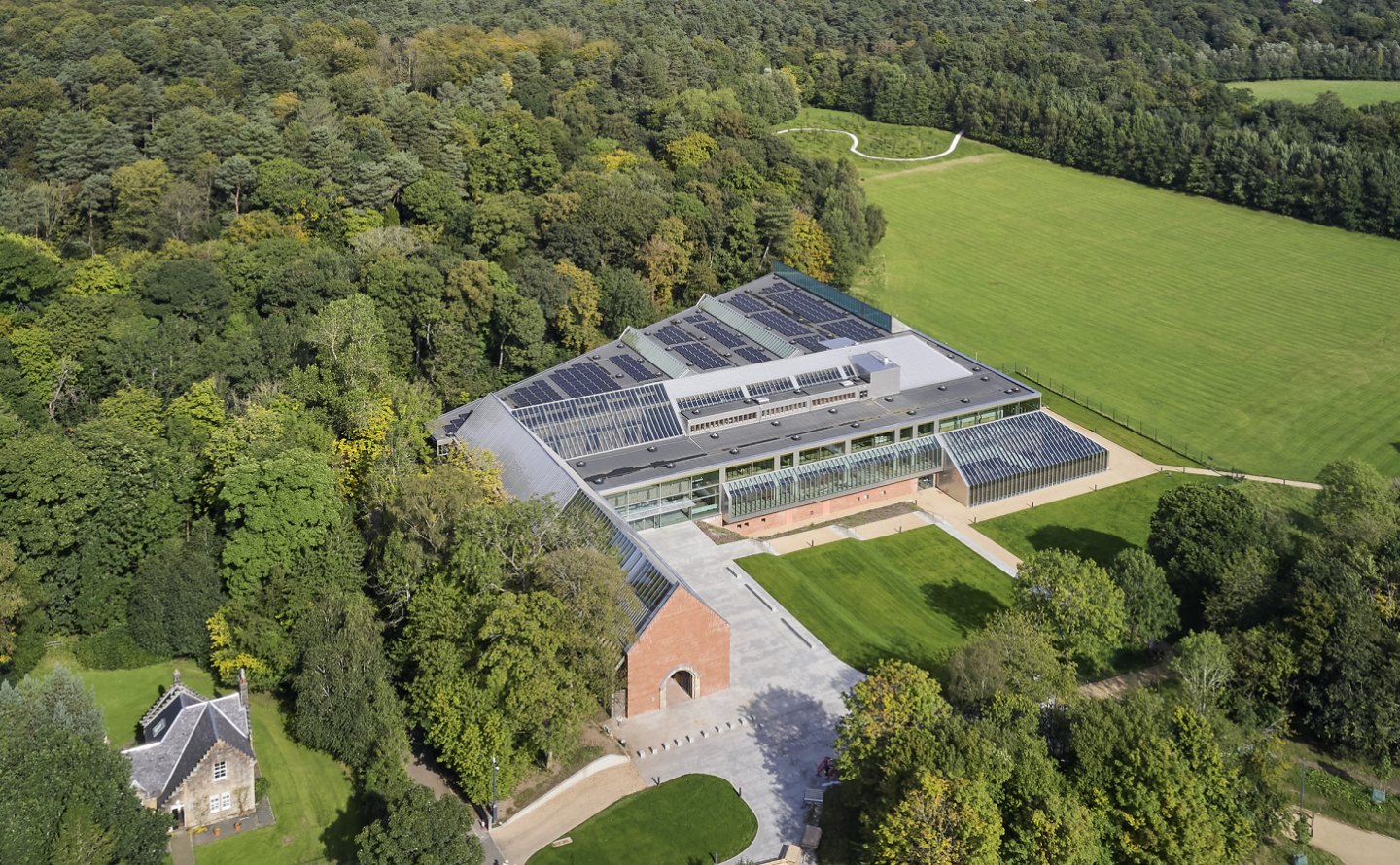 The Burrell Renaissance project has achieved a BREEAM rating of Excellent putting the museum in the top 10% of energy efficient buildings in the UK, a significant achievement for the refurbishment and conservation of a Category A listed building.
The building - the Burrell Collection on the edge of Glasgow - has been sensitively adapted and refurbished focusing on a 'Fabric First' approach, maximising the benefits of improving the building envelope before turning to improved internal services and new sustainable technology. This primary approach is calculated to save in the order of 70 tonnes of carbon per annum in operation. Thermal and airtightness improvements will contribute a further 130 tonnes of carbon reduction per annum. These contributions are in addition to improved UV filtering and security to safeguard the collection in the newly refurbished museum.
The standing seam stainless steel cladding to all vertical elements throughout the building and the pitched roof zones have been fully replaced with a new system designed to improve weathertightness and insulation.
The pitched roof uses utilises cellular glass insulation supplied by Foamglas® consisting of 60% recycled content. This provides an airtight and vapour impermeable layer below the membrane waterproofing and overlaid stainless steel. The stainless steel grade and finish has been chosen to replicate existing materials originally selected for the building.
Together these materials and construction methods play an important role in reducing the demand for energy and the associated carbon emissions used for heating and cooling the building in operation.
Further initiatives undertaken in the project have had a positive benefit in terms of embodied carbon in building materials used in the refurbishment work. Nearly 20% of the glazing has been recycled. The reuse of existing aluminium glazing frames saved over 8.5 tonnes of new aluminium from being added to the building which in turn saved 100 tonnes of carbon emissions associated with new aluminium production. 
The building envelope improvements alone contributed 51% of these carbon emission savings, equivalent to a reduction of 626 tonnes of CO2 emissions every year. This could be compared to the equivalent of 125 return economy flights from Glasgow to Sydney, Australia each year, a significant reduction realised through this conservation and refurbishment scheme.
These significant carbon footprint reductions to help fight climate change are the result of collaborative design between John McAslan + Partners, building services engineers Atelier Ten and façade consultant Arup.
The project is also another example of John McAslan + Partners' interest in reuse and, especially, in working with buildings by significant architects of past generations. The Burrell Collection was designed in 1971 by Barry Gasson, John Meunier and Brit Andresen, three young Cambridge architects and completed by Barry Gasson Architects in 1983. It represents a seminal example of sensitive Modernist architecture. Built from largely natural materials on a site in mature woodland, it houses a remarkable collection of precious objects spanning 4,000 years set wherever possible against a changing backdrop of chestnuts and sycamores, bluebells and bracken seen through extensive conservatory or winter garden style glazing.
The Burrell Collection re-opens in March 2022.
Thank you to Arup for the thorough technical information and data used in the above text.